In 1975, André-Gilles TAILLEPIED started the company with his father Mr André TAILLEPIED who was one of the pioneers to set up in the Bay of Veys (1968).
The company opened its doors in June 1994. Axel, André-Gilles' son, joined the company about ten years ago. In 2012, he became the company's co-manager.
Our staff consists of 8 full-time employees. In periods of high activity, i.e. from September to April (approximately), we add another 4 people. During the festive season, our staff consists of 25 people.
We operate 7 ha of oyster beds which produce on average 150 to 200 tons.
For André-Gilles and Axel Taillepied, the key words are :
– DEMAND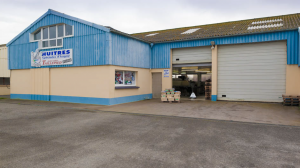 – TASTE
– FLAVOUR
– FRESHNESS
– QUALITY